Starting a van conversion and staring at a bare cargo van is a daunting task to say the least,
there are a million questions in your mind:
How much space do you need to build a campervan kitchen?
How big does a camper conversion bed need to be?
How do you fit a campervan table with enough seating for the kids?
If these are some questions you are asking yourself,
Then you are in the right place.
In this video I explain the process I went through to figure out the layout of my camper conversion.
Enjoy the video.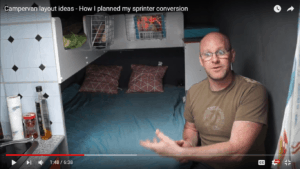 Can I put bunk beds in a van conversion?
Why yes you can!
As you can see below,
I put two bunk beds in above the main bed in the back of my sprinter van conversion which sleep my two older kids.
The youngest sleeps in the alcove under the bunk steps!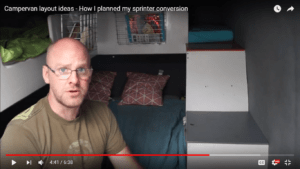 How to build the bunk beds in the back of your camper.
Here you can see the alcove and the bunks which wrap around the back and one side of the van wall.
I used the framing and the steps to support tee outside of the rear bunk.
And the side bunk bed is supported by the framing wall around the kitchen unit.
It is all very snug,
but it suits us perfectly.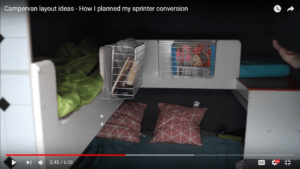 Using the steps as storage.
The bunk bed steps double up as storage boxes for the clothes and essentials.
I used a hinged lid as a treads of the steps,
I spaced out the rise and the length of the steps to give me two nice uniform steps up to the bunks.
The solution worked really well, and provides us with much needed space when we are on the road.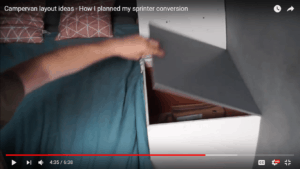 Where do I place that roof window?
Check out my review on the Seitz roof window here.
For me,
that was an easy solution!
I am 6'4" tall.
And I need head room while standing and cooking at the kitchen.
So;
I placed the roof window directly over the kitchen area to allow me to stand fully upright.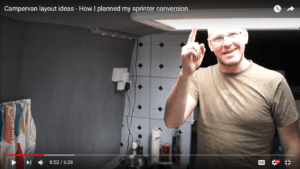 There are some tips and tricks for planning the layout of your campervan.
Just remember to start planning with real measurements before you start to build.
I started with a 4" mattress measurement and I worked from there.
Best of luck in your van build.