Here are some of the best small Campervan DIY conversions you have ever seen!
From micro camper conversion kits,
to fully equipped small camper conversions.
Brilliant bolt-on ideas, pop up roof's, Al-fresco kitchen and even a drive away porch!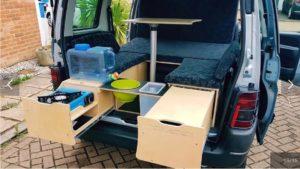 The builders of these vans have gone above and beyond to cram in as much home comforts as possible.
So lets dive right in to to our epic guide to small van-life.
---
Before you get started,
Check out My own camper conversion, My Mercedes sprinter:
---
First up – An awesome modular Camper Conversion kit from Campal.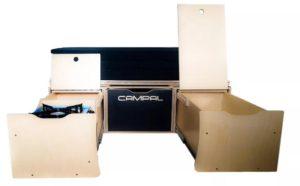 This comes with an inbuilt kitchen drawer with its own gas stove,
And the opposite drawer doubles as storage and a work surface!
There is also a pop up table, and built in water and bin-
store.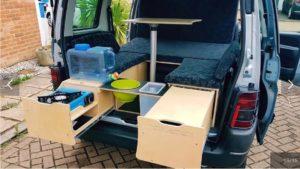 The bed folds out in a similar way to the last example.
This is a very neat design solution which stores away nicely behind your back seats.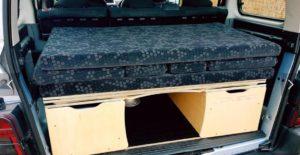 The full kit comes with
Set of cushions.
CampinGaz gas stove
Vango windshield
Table top with lightweight Fiamma table leg and bases
Set of bowls and waste box.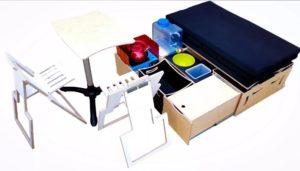 ---
What Gas Stove to use for a Small Van Conversion?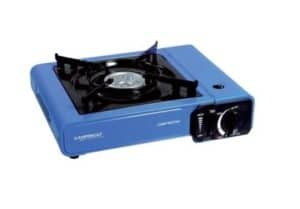 Camping Gaz have a beautifully built single ring gas stove which is the perfect size for a small van conversion.
The Campingaz Camp Bistro 2 is a 2200w travel stove designed for motorhomes, caravans, and camping trips.
It has an enamelled pan support for stability and a locking system for safe gas cartridge insertion, it also has an in-built ignition button.
It measures 33cm x 28 cm x 9cm, and weighs 1.43kg.
---
Here are some of the small extras needed for a full camper kitchen setup!
---
---
---
---
Heres a basic small van conversion for one person:
This small van conversion idea is the modular single bed conversion.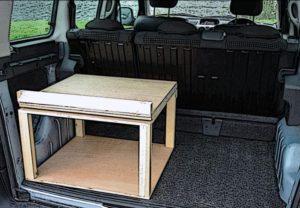 This is very suitable for the weekend warrior
who uses the van during the week as a daily driver.
But, come Friday night, You can lift your fold out storage bed into the back of the van.
And within 5 minutes,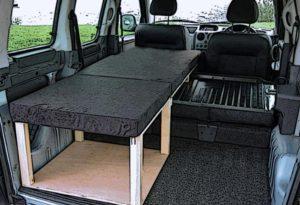 Your daily driver becomes an over-niter!
With cooking facilities, a comfortable single bed and and even a table,
for when you have guests over of course!
It all folds away neatly once Monday morning comes.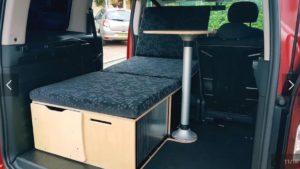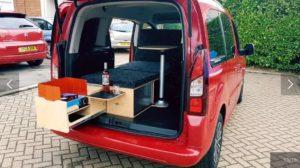 How about a basic small van conversion,
for couples who love an adventure?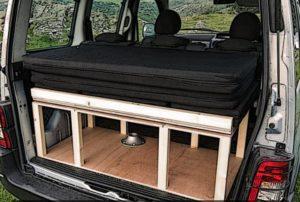 This small van conversion solution from space campervans,
is built around a similar idea to the single modular pack.
A fold out frame sits in the boot space of the van,
When the back seats of the van are folded away,
Then the conversion kit folds out to reveal a bench seat,
With a pop up table and two side stools around the table!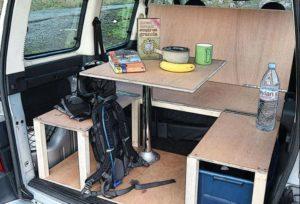 the kit can be purchased with bespoke cushions which for a double bed when the kit is turned into a bed platform.
The underside is left open to store all the essential for your night away!
Pretty nifty I think!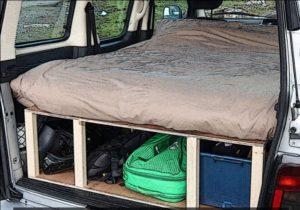 You can check out this kit on EBAY, just click the relevant link below:
Citroen Berlingo Camper Van Conversion Module.
Peugeot Partner Camper Van Conversion Module.
Renault Kangoo Camper Van Conversion Module.
Fiat Doblo Camper Van Conversion Module.
The double bed camper conversion kit from Redcote leisure.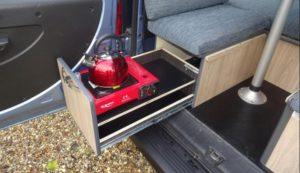 The kit comes with a kitchen drawer,
A pop up table and storage drawer on the opposite side.
The cushions in this design are very well made indeed.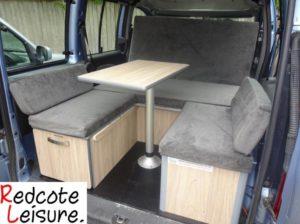 Got room for a dog??
Next up is a DIY conversion from Pam the van.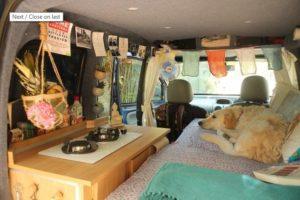 This is the most homely small van conversion I have ever seen!
There is life in that van,
as you can clearly see!
Pam has an impressive list of interior appliances
packed into that beautiful machine.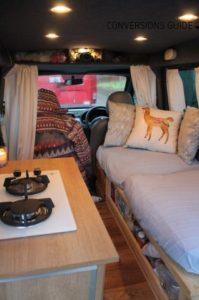 two hob burner, powered with a campingaz 907 bottle
kitchen cupboard
extendable 1.80m bed with storage space underneath
shelf mounted above the drivers cabin
LED lightning + inverter powered by 110ah leisure battery,
split charge relay to charge the leisure battery,
curtains for privacy.
And a Van DOG named Odie!
---
So how do you go to the toilet in a small van?
---
I have a Dometic portable toilet that I can store away in my boot.
It may not be glamorous, but it does the job.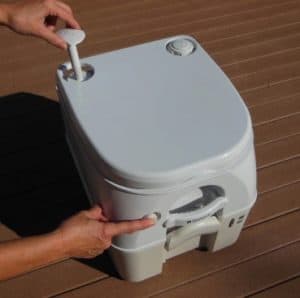 Portable toilets are made up of a plastic toilet bowl and seat, and small waste tank.
The two can be separated like the cassette toilet.
When the portable toilet is full,
you remove the lower tank from the upper bowl, and dump into a waste disposal point.
You can see above that my dometic portable toilet comes with a few different tank capacities.
---
Here are 2 good quality portable toilets that I recommend on amazon.
---
---
---
Did you know there is a Japanese small van movement?!?
Here's a Dihatsu minivan conversion.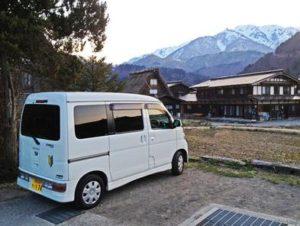 It has a built in kitchen,
A fridge! and,
a double bed which slides back into a work bench / table.
Believe it or not, his van has double sliding doors for entry on both sides of the van.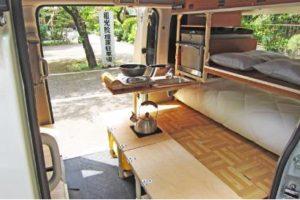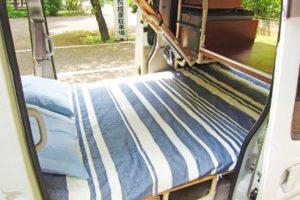 Another nice micro conversion conversion kit from Amdro.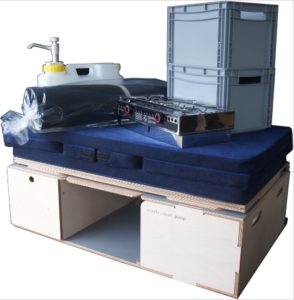 Here's the Amdro boot jump.
It is a full small van conversion kit which you just lift into place before you hit the road.
this kit will transform your van into a complete camper in a matter of minutes!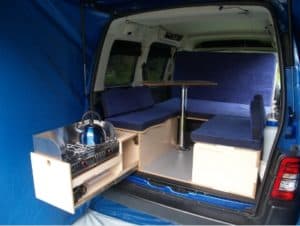 The kitchen is hidden under the seats and slides out when you need bacon!
Because we all need a bit of bacon on a camper trip!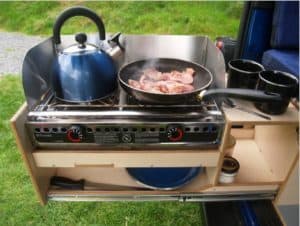 The double ring stove is very handy for cooking for a small family.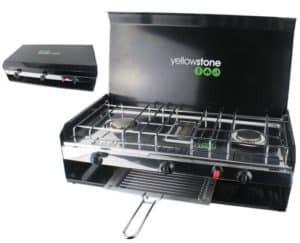 Here is an awesome double stove with a gas grill underneath.
The amdro kit folds down to create sleeping area large enough for 2 adults.

Check out the video!
High end small van conversion with a pop top!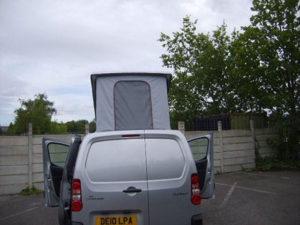 Now we have reached the upper echelons of small van conversions!
This Berlingo has a double bed, with underbed storage.
A built in kitchen hob with cupboard storage underneath.
And up on top,
There is a very nice pop top roof which allows you to stand up in the van.
This is almost unheard of in a small van!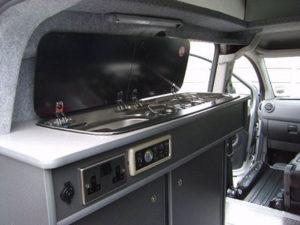 The pop top roof could be converted into a single bunk, if you needed an extra sleeping space.
Check out this pop up roof on EBAY.
A VW caddy camper conversion with awning!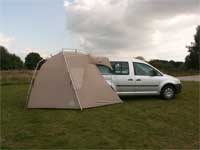 Last but not least!
This VW caddy sleeps two with a slide out bench bed.
The Kitchen comes with a hob and built in sink.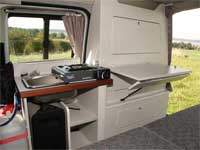 There is plenty of storage for food and clothes in the various spaces.
And the van comes with its own drive away awning.
So you can pitch camp, and drive away to explore for the day.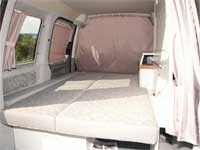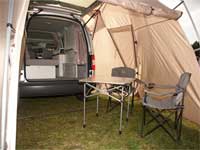 You can pick up a tailgate awning for a vw caddy van on EBAY.
---
Here are 2 great awning solutions I recommend for your small van conversion.
---
---
---
These are the best small campervan conversions that I have found on the web.
All of the above can be achieved on a DIY basis,
With a little time and effort,
And,
A little inspiration from the diy campervan conversion plans shown above,
Maybe a little help from a micro camper conversion kit!
You can achieve an amazing small camper van!
Hope you found this small camper van conversion guide useful.
Enjoy your build!