Yes,
I feel your pain!
Your dream of freedom on the road
has been destroyed by the cost of your van conversion…..
Fear not……
A basic campervan conversion will get the ball rolling,
And;
Your dream of soaking up the sun by a secluded beech can stay alive!
It is a shock,
when you tally up the figures and you see the cost of your build!
But,
If you start small, over time, you can add to camper van conversion step by step.
And,
As you get more ideas to add to your conversion,
eventually you will get to the perfect campervan conversion after a year or so.
Use this article as your step by step self build campervan guide!
---
Here's a little tour of my own camper conversion:
—————————————————————————————————————————————————-
So;
What does a basic camper van conversion look like?
Lets think for a minute.
What do we ACTUALLY NEED in a basic campervan conversion?
We need;
A van!
A private interior – to get dressed and eat in privacy.
A dedicated sleeping area.
We need cooking facilities – to allow us a reasonable level of comfort.
And
we need an eating and relaxing area – A table that can hold a bottle of wine and a pizza!
Oh…and a toilet!
So now for the interesting bit!
I will outline a step by step SELF BUILD campervan conversion guide,
to to get you to on the road,
exploring the world, and living the vanlife!
And it is very achievable!
So, lets begin!
1. Roll back the years…….
First you need to get your hands on a van!
sounds easy,
but this is likely the most arduous decision we all have to make in the camper conversion journey.
There is a real temptation to aim far too high!
Don't get drawn in by the glossy magazine photo's of a pristine 5 star van conversion.
And then dive right in…….
A new van may not even be the best van to convert to a camper.
Then you go down to the nearest dealer to find that a newer van can set you back $30 G's!!
Well that wiped the smile off your face, didn't it.
Now its time to roll back the years a little,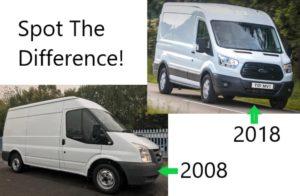 Remember,
Most vehicles will depreciate by about 20% / annum.
So;
An newer van might cost $30,000,
but a 10 year old van will usually trade for about 10% of the purchase price.
And If you are buying directly from a company,
You wont have to haggle much!
They just want the book value to balance the ledger at the end of the year.
So you can own a usable van,
for a fraction of the price you thought you would have to pay!
It will perform the exact same function as a new base vehicle,
but it will not break the bank!
And sure it might be a little worse for wear,
But we are going to fix it up anyway, so none of those dents will be visible in the end!
Here's a video on how I chose my van, and the mistakes I made:
No.2 – Time for a facial, and some make-up………..
So,
you now have your base vehicle for a fraction of what you first thought.
Nice job!
What's next?
I hear you say!
Time to make this van presentable to the world,
And livable for you.
lets look at some solutions for building a camper van interior.
If your base van was a bus in its former life,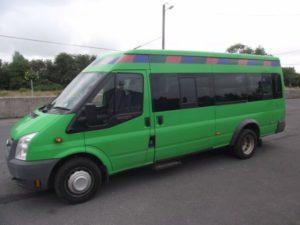 It will usually come with felted walls and ceiling throughout.
This is one of the advantages to starting with a bus.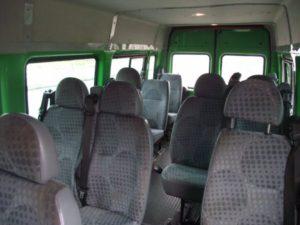 You have fixed seats,
already up to code.
And the interior has been treated in a reasonable fashion.
But a bus is a little too see through for my liking!
Now we need to think about treating those windows –
Cant be putting on a show for the world every morning, now can we!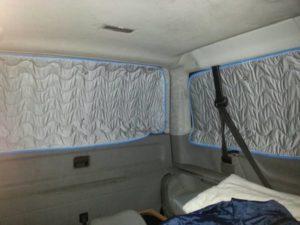 With a little effort you can make insulated window covers like these.
Or
You could go the quick and easy route,
By purchasing these stick on insulated window covers.
You could also make the same product if you have a bit of patience and are handy with hot glue!
Here the process:
Get a roll of van insulation.
get a roll of lining felt, and cut to size.
size your shade against the window.
mark where the shade meets the metal surround of the window Glue some neodinium magnets to the interior of the shade.
spray glue the felt to the interior of the window shade.
And there you have it,
A simple shade that sticks to the interior of the window,
And is easily removable.
OR;
You could also go a more permanent route.
If your base van is a former cargo / trade van.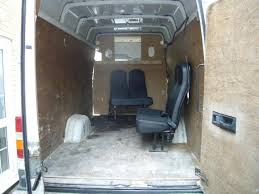 Then it will be a bare shell interior in the cargo bay.
You may want to fit a window into the van to brighten up the space.
Unless you want to grin and bare it,
You will be forced to line the interior of the van with an insulated and felted surface.
This will stop condensation form building up,
and it will keep you cosy on the occasional chilly night!
Heres what you need to do:
Get enough rolls of van insulation to cover the interior walls and roof of the van.
Spray glue the insulation onto the van walls.
Get some thin plywood, 4mm is usually strong enough yet pliable enough to cut and fit the walls.
Cover the main panels of the walls of the van
Fix the ply to the walls with screws.
Dont worry about overly complicated joints.
Fine detail can be sorted with expanding foam and a sharp knife!
once the ply is in place,
fill out the holes with the expanding foam and leave to set.
when it has set, you can easily shape it to suit.
Now it is time to felt the interior of your basic campervan conversion!
It is easier to start at the top of the wall and work down,
pull the material to suit and rub out any creases before the glue sets.
Spray glue is quick to set,
So you will have to be on your toes!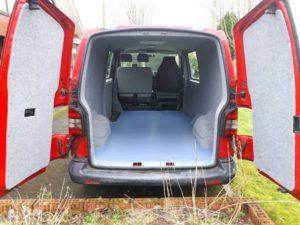 Take your time at this process,
The finished product will reflect your effort and time.
Dont worry about surplus material running past the edge of a panel,
You can trim it down to size later.
Remember,
You are only going to do it once – so do it well!
Lets recap;
We have a van,
And we have a treated interior.
Here's a video on how I planned the layout of my van:
Lets sort out a basic place to sleep in your van conversion!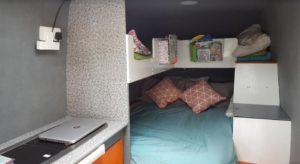 The most common sleeping arrangement is placing the bed to the rear doors of the van.
Both a normal cargo van and a bus conversion, will be treated the exact same way when it comes to building a bed.
So that simplifies things a bit!
In the case of a basic campervan conversion bed,
We are not really building a bed per se!
We are building a covered storage box in the back of the van!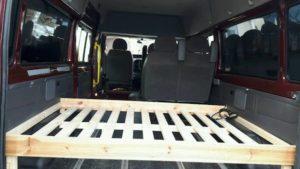 And we just happen to be putting a bed on-top of the finished storage box!
So we get a two for one deal,
A nice covered storage area which is accessed form the rear,
And a nice bed to sleep on!
To build the bed you will need 3×2 timber,
some 3/8th ply to sheet the box, and strengthen the structure,
glue and screws etc!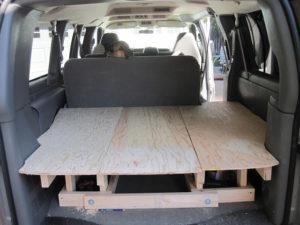 You could even build the bed so that it could be removed later.
To start,
You should box out around the wheel arches,
up to the desired height of the bed frame.
About 18 inches is usually high enough,
You want enough space underneath to store essentials like water containers,
and cooler box maybe.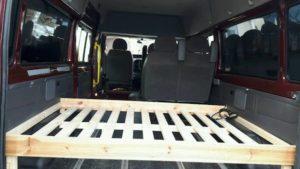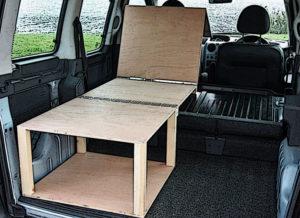 You can cover the frame in one single platform,
Or you can make it modular,
for ease of storage.
You can check out these easy small van conversion kits here.
There are also ready made bed boxes you can buy direct to convert your van.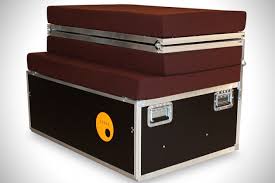 They are modular,
So you can install it and remove it with ease.
This is certainly a good option for a basic camper conversion.
Just open up the box,
place the cushions and away you go!
If you want a single bed arrangement,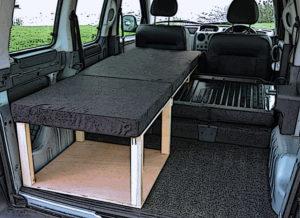 The same concept applies,
Box out over the wheel arches,
Build your platform and off to bed with you!
So thats the sleeping arrangements taken care of.
Watch how I installed a flip up Bed Boot in my Sprinter conversion.
Now on to the eating arrangements!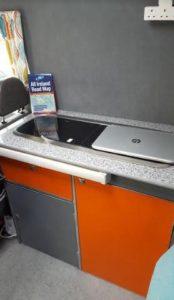 The kitchen and food storage area is usually placed to the side wall of the van,
and usually opposite the sliding door.
The further to the rear of the van you can keep it the better really,
This will allow for a seating and table area just to the rear of the drivers seat.
So.
A basic kitchen in a campervan has a few essentials,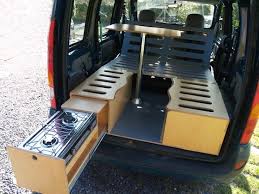 A sink for washing food, cleaning and filling kettles!
And a gas hob for cooking up a storm.
A basic campervan conversion, means keeping the kitchen quite a simple affair,
First we start with a ready built hob and sink layout.
These units can be purchase ready to fit.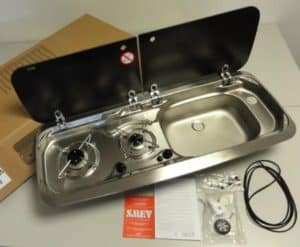 They are great,
and I have used the product myself in my own recent conversion.
You can build a tidy unit to fit the kitchen into
hookup a water supply and gas supply,
And you are ready to go.
You can also purchase the kitchen ready built!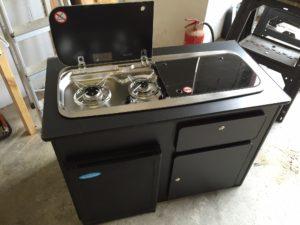 This is obviously the easiest solution,
but the generic design may not fit perfectly.
It might take a little pruning to get it to fit!
remember, when making your kitchen unit,
ensure that your storage press and drawers are lockable,
And the shelves have a barrier to stop things sliding off all the time.
That about covers the basic campervan conversion kitchen I think.
Here's a short video on my own camper kitchen:
And How I plumbed the Sink and Tap.
I use a Portable Toilet to take care of business!
I have a Dometic portable toilet that I can store away in my boot.
It may not be glamorous, but it does the job.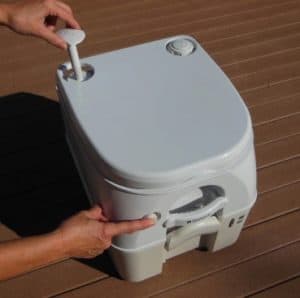 Portable toilets are made up of a plastic toilet bowl and seat, and small waste tank.
The two can be separated like the cassette toilet.
When the portable toilet is full,
you remove the lower tank from the upper bowl, and dump into a waste disposal point.
You can see above that my dometic portable toilet comes with a few different tank capacities.
Finally we need to sort out a table for eating and seats for relaxing.

This can be achieved
in a few different ways,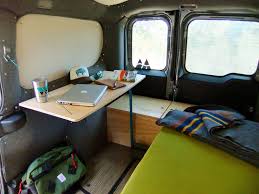 Keeping in mind, this is a basic campervan conversion!
The fold down table is attached to the body of the van on a hinged rail,
And the leg folds out when the table is dropped down.
OR,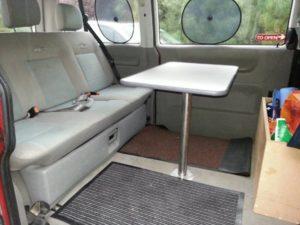 You can go for the stand alone table.
which needs a socket inserted in the floor of the van to recieve the table leg.
This table can be removed and stored behind the seats.
Now for a seating area.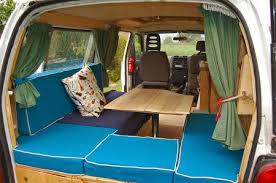 If you are working with a smaller van body.
Then your seat will double as your bed.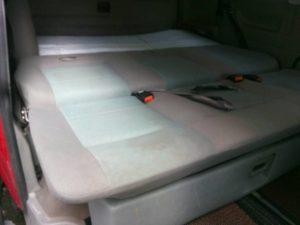 You may want a rock and roll bed.
This frame folds down into a full size bed,
It suits a small van as it doubles up as a fully certified passenger seat.
If you have a bus conversion project,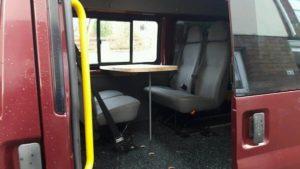 You can salvage a bench seat for you main seating area,
and sell the rest on ebay!
This sorts out your seating arrangements,
And you can recoup some of the cost of the conversion project!
—————————————————————————————————————————————————————–
Here's a short video on how I built my seating area:
————————————————————————————————————————————————————
So
There you have it,
5 steps to vanlife!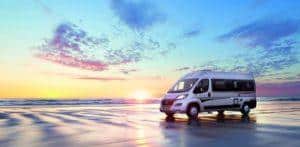 I hope you found this step by step self build campervan conversion guide useful.
Your basic campervan conversion project will not be easy,
But, man it's worth it!
If you start with manageable goals,
You can achieve a livable van in a few short weeks of work.
And over time you can build on the solid beginnings
To create your dream van!
So get dreaming!