In this video, we install a diy campervan bed that flips up with the push of a button!
This will allow access to the boot area of the camper for easy storage.
The campervan folding bed should make the van conversion work a bit better for the family, by allowing us keep clutter away from the living area of the van.
I have to say, this is one of the best conversion van bed ideas I have had!
So;
Lets get into it!
1: the first job is to remove the old camper van bed frame base and mattress.
Once those are out of the way,
You can see the area we are dealing with clearly.
I want the bed base to hinge against the side wall of the van.
That way it will open the widest where at the most spacious access point.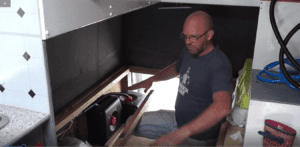 2: Then you need to measure the size of the camper van bed frame and cut your sheet of timber to size.
Use the cut edge as the hinging side.
That will avoid splinters from operating the door in the future.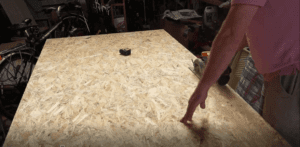 3: Next you will have to fix the bed support frame to the hinged side before fitting the cover,
The space is very small underneath,
So fitting the hinges after would be near impossible!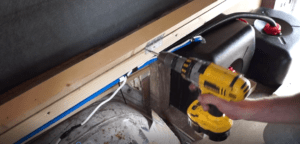 The campervan bed system will hinge up just like this!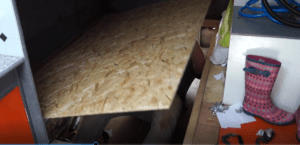 That leaves me enough space to fit a fully grown man in the boot!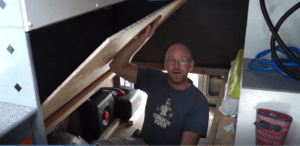 5: fitting the gas strut to the bed cover.
You will need to dry fit the gas strut to find the best finished position.
Ideally,
The gas strut should lie at a 45% angle from the bed base,
this will offer the best leverage against the bed base.
6: Here is the finished position of the gas strut.
The strut is activated by a push button at the front of the bed.
The strut fixes in position when the button is let go.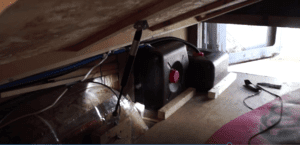 Here you can see the position of the activation button.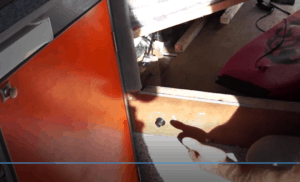 7: when you press the button, the bed falls down and closes the boot.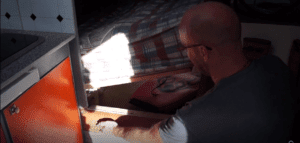 Just mind your fingers!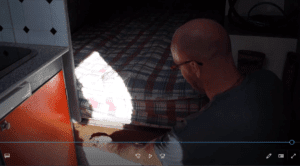 The job is done!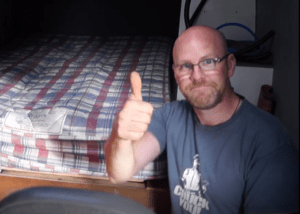 Now I have access to the boot space at the push of a button!
If you find this van bed plans useful, check out the links below for help finding the right products for the job.
Good luck with your project!