Here's how I fitted a full wrap around curtain setup in my Mercedes campervan conversion using a cool hack!
I found an inexpensive bay window curtain rail which comes with fixings and curtain hangers on EBAY and fitted it into the cab very neatly.
The rail is barely visible when installed correctly.
Also,
The curtains hang quickly and neatly, and you can tuck the curtains away in a very discrete way.
Enjoy the video!
Can I use flexible curtain rail in a campervan conversion?
Yes you can!
Below you can see my own curtain setup in the van cockpit.
I have used a simple roll of flexible curtain rail that I bought from EBAY.
One 5m roll was enough to fit curtains in the whole van!
And it neatly wraps around the corners of the fron window area without getting in your sightline.
IT was a really nice solution to a common problem.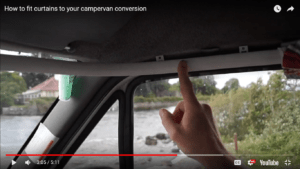 How to fix the curtain rail to the drivers cockpit in a van conversion.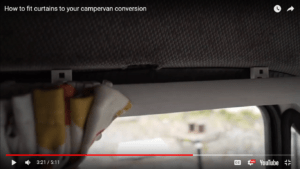 You can see above that I was able to fix the curtain rail to the lining of the cockpit roof area.
The lining is backed with hard board,
so it has some strength, but not enough to hold a screw fixing.
In order to fix the crews to something solid, you will need to cut down som 2×1 timber to a 1×1 batton.
Each curtain rail fixing needs about 4 inches of timber behind the roof lining to screw to.
Just pull back the lining from the roof and slip in the timber behind the lining.
You will need to hold the timber with your hand while screwing the hanger in place.
How to finish the end of the curtain rail.
The curtain rail will slide into the pillar cover if you cut a slot in the pillar cover.
I used a soldering iron to melt a slot in the pillar which the curtain rail slide right into and finishes the job off nicely.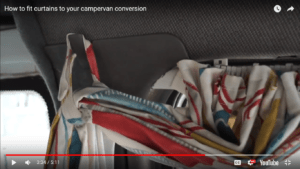 So,
There you have it,
A simple curtain solution to a sometimes tricky job!
Check out these flexible curtain rails on EBAY for your camper conversion.