I put a whole lotta time and effort into picking the campervan sink and hob combination unit that best suited my needs.
And after searching for a long time,
I purchased and installed the SMEV 9222 double hob and sink combination kit.
The SMEV 9722 and 9222 are pretty much identical, so this review will be useful for both.
Using the SMEV 9222 is a pleasure as you can see from our videos.
With three kids in tow, I need this unit to perform!
And so far – feeding a small family on the road,
this unit does the job very well!
In the video I discuss how to Install the SMEV 9222 unit.
The mistakes I made and how to avoid installation mistakes,
Plus,
I will give you a run down on my thoughts about it after a year of using the 9222 combination unit.
I also go through the fitting instructions for the smev 9222 unit.
Check out my review above and see if this unit is the right camper kitchen unit for you.
---
---
SMEV 9222 and 9722 Dimensions and cutting Template :
Cooking on the Double Hob SMEV cooker.
My smev hob and sink is very capable and has served me well for the last few years.
The cooker has plenty of space to move two pots around without any trouble.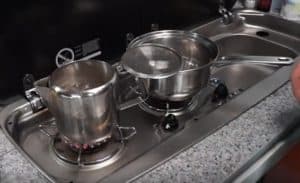 Using the glass cover as a prep area.
The sink side glass cover can be closed down while cooking also,
so you can use that side as a preparation work surface.
The hob has individual controls for each hob.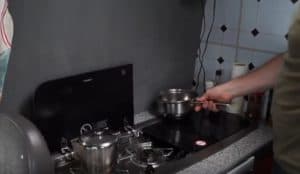 Do you need a large gas tank to run the camper kitchen?
No!
I don't use a large camping gas tank for my cooking hob.
I use a simple camping gas tank which is 2kg,
and this lasts me about a week of cooking for a small family of 5.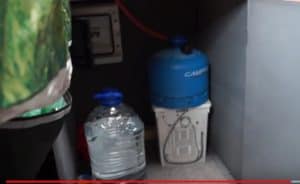 ---
How I plumbed in my campervan Kitchen sink:
In this video I go through the whole installation process,
for the fresh and waster water system that I used in my campervan conversion.
---
Different cooker configurations.
You can purchase the cooker in different combinations, with or without plumbing accessories.
Here are a few of the types of kits available: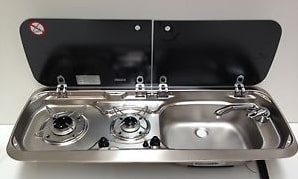 Here is the cooker unit on its own, you can check it out HERE to view the latest price on EBAY.
Combination hob and sink unit with water setup kit: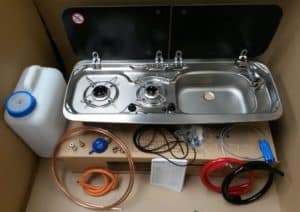 This is a great option, including fresh water tank and gas setup with waste and fresh water pipe.
You can check this kit out HERE to view the latest price on EBAY.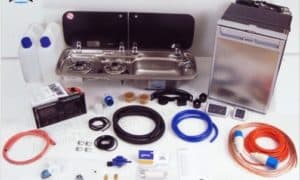 This Kit is amazing,
It has the whole fresh and waste water setup included.
Also, the gas cooker with regulators and gasline and a gas operated fridge with a power management system.
This is a real professional kit!
You can check out the latest price on EBAY HERE
---
So,
There you have it, 
My kitchen setup and review of my SMEV 9222 cooker and sink unit.
Get out there and build your own campervan kitchen and explore the world!
---
---